Product Description
                                 YL Type Flange Grid Coupling (JB/ZQ4376-2006)
♦Description
Grid Type Couplings are multi-piece mechanical couplings used to transmit torque and rotation between shafts in mechanical power transmission assemblies. Their design allows them to accommodate slight alignment changes that occur between connecting shafts, while also absorbing shock loads. Huading is a leading grid coupling manufacturer in China, a grid coupling supplier in China offering the latest and modern Grid Type Couplings.
Grid Coupling is widely used in metallurgy, mining, lifting, transportation, petroleum, chemical, ships, textile, light industry, agricultural machinery, printing machines and pumps, fans, compressors, machine tools and other mechanical equipment and industry shaft transmission.
♦Feature
1. The serpentine spring as the elastic element, the elastic strong at the same time, greatly improves the grid coupling torque, widely used in heavy machinery and general machinery.The serpentine spring special technology department, has long service life, allowing higher speed, has good ability to compensate in the axial, radial and angle
2. High transmission efficiency, start safety. Transmission efficiency of up to 99.47%, short-time overload capacity is 2 times the rated torque, operation safety.
3. Simple structure, convenient assembly and disassembly, long service life
4. Damping effect is good to avoid the resonance.
♦Basic Parameter and Main Dimension
Note:
N.m= Norminal torque; r/min= Allowable speed of rotation; d= Diameter of shaft hole;
Y L= Length of shaft hole; d3 n= Bolt; kg.m²= Rotational inertia; kg= Mass
The weight and rotation inertia are approximate values calculated by I-type coupling with the minimum diameter and the maximum length of the shaft hole.
♦Other Products List
Transmission Machinery 
Parts Name
Model
Universal Coupling
WS,WSD,WSP
Cardan Shaft
SWC,SWP,SWZ
Tooth Coupling
CL,CLZ,GCLD,GIICL,
GICL,NGCL,GGCL,GCLK
Disc Coupling
JMI,JMIJ,JMII,JMIIJ
High Flexible Coupling
LM
Chain Coupling
GL
Jaw Coupling
LT
Grid Coupling
JS
♦Our Company
HangZhou CHINAMFG Machinery Manufacturing Co., Ltd. is a high-tech enterprise specializing in the design and manufacture of various types of coupling. There are 86 employees in our company, including 2 senior engineers and no fewer than 20 mechanical design and manufacture, heat treatment, welding, and other professionals.
Advanced and reasonable process, complete detection means. Our company actively introduces foreign advanced technology and equipment, on the basis of the condition, we make full use of the advantage and do more research and innovation. Strict to high quality and operate strictly in accordance with the ISO9000 quality certification system standard mode.
Our company supplies different kinds of products. High quality and reasonable price. We stick to the principle of "quality first, service first, continuous improvement and innovation to meet the customers" for the management and "zero defect, zero complaints" as the quality objective. 
♦Our Services
1.Design Services
Our design team has experience in cardan shaft relating to product design and development. If you have any needs for your new product or wish to make further improvements, we are here to offer our support.
2.Product Services
Raw materials → Cutting → Forging →Rough machining →Shot blasting →Heat treatment →Testing →Fashioning →Cleaning→ Assembly→ Packing → Shipping
3.Samples Procedure
We could develop the sample according to your requirement and amend the sample constantly to meet your need.
4.Research & Development
We usually research the new needs of the market and develop the new model when there is new cars in the market.
5.Quality Control
Every step should be special test by Professional Staff according to the standard of ISO9001 and TS16949.
♦FAQ
Q 1: Are you trading company or manufacturer?
A: We are a professional manufacturer specializing in manufacturing various series of couplings.
Q 2: Can you do OEM?
Yes, we can. We can do OEM & ODM for all the customers with customized artworks of PDF or AI format.
Q 3: How long is your delivery time?
Generally it is 20-30 days if the goods are not in stock. It is according to quantity.
Q 4: Do you provide samples? Is it free or extra ?
Yes, we could offer the sample but not for free. Actually we have a very good price principle, when you make the bulk order then cost of sample will be deducted.
Q 5: How long is your warranty?
A: Our Warranty is 12 months under normal circumstance. 
Q 6: What is the MOQ?
A: Usually our MOQ is 1 pcs.
Q 7: Do you have inspection procedures for coupling ?
A: 100% self-inspection before packing.
Q 8: Can I have a visit to your factory before the order? 
A: Sure,welcome to visit our factory.
Q 9: What's your payment?
A: T/T. 
♦Contact Us
Web: huadingcoupling
Add: No.11 HangZhou Road,Chengnan park,HangZhou City,ZheJiang Province,China
Understanding the Torque and Misalignment Capabilities of Motor Couplings
Motor couplings play a critical role in transmitting torque from the motor to the driven equipment while accommodating certain degrees of misalignment between the motor and driven shafts. The torque and misalignment capabilities of motor couplings are essential factors to consider when selecting the appropriate coupling for a specific application.
Torque Capabilities:
The torque capacity of a motor coupling refers to its ability to handle the maximum amount of torque that can be transmitted through the coupling without causing failure or damage. Couplings are designed with specific torque ratings to ensure reliable power transmission.
The torque capacity of a motor coupling depends on factors such as the material used, the size and design of the coupling, and the application requirements. High-performance couplings made of robust materials, such as steel or alloy, can handle higher torque loads and are often used in heavy-duty industrial applications.
Misalignment Capabilities:
Misalignment is a common occurrence in mechanical systems due to factors such as installation errors, thermal expansion, and dynamic forces. Motor couplings are designed to accommodate certain degrees of angular, parallel, and axial misalignment between the motor and driven shafts.
The misalignment capabilities of a motor coupling are specified as angular misalignment, parallel misalignment, and axial misalignment. Angular misalignment refers to the angle between the motor and driven shafts, parallel misalignment refers to the lateral offset between the shafts, and axial misalignment refers to the axial displacement along the shafts.
Flexible couplings, such as elastomeric or grid couplings, offer greater misalignment capabilities compared to rigid couplings like gear couplings. The ability to handle misalignment helps reduce stress on the connected equipment and prolongs the life of the coupling and other mechanical components.
Selecting the Right Coupling:
When selecting a motor coupling, it is crucial to consider the torque and misalignment requirements of the specific application. Engineers and designers need to assess the torque demands of the driven equipment and the potential misalignments that may occur during operation.
Choosing a coupling with adequate torque and misalignment capabilities ensures efficient power transmission, minimizes wear on the equipment, and prevents premature failure. Additionally, the coupling's operating conditions, environmental factors, and service life expectations should be taken into account to make an informed coupling selection.
In summary, understanding the torque and misalignment capabilities of motor couplings is essential for optimal performance, reliability, and longevity in mechanical power transmission systems.
"`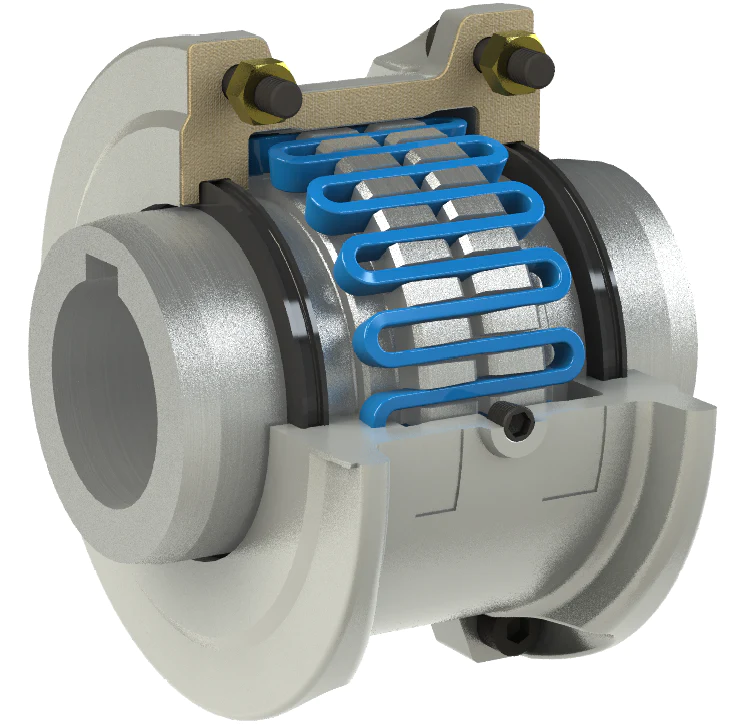 Do motor couplings require regular maintenance, and if so, what does it involve?
Motor couplings do require regular maintenance to ensure their proper functioning and to extend their lifespan. The maintenance procedures typically involve the following steps:
Inspection: Regular visual inspections are necessary to check for signs of wear, damage, or misalignment. Inspect the coupling for any cracks, corrosion, or unusual vibrations.
Lubrication: Some motor couplings, especially flexible and universal couplings, require proper lubrication to reduce friction and prevent premature failure. Follow the manufacturer's recommendations for the type and frequency of lubrication.
Tightening: Check and tighten the coupling's fasteners regularly to prevent any loosening that might occur due to continuous operation or vibrations.
Alignment: Ensuring proper alignment between the motor and driven load is essential for motor couplings. Misalignment can lead to increased stress and wear on the coupling, causing it to fail prematurely.
Replacement: Over time, motor couplings may experience wear and tear, especially in high-load or high-speed applications. Replace the coupling if it shows significant signs of wear, deformation, or damage that could affect its performance.
Balancing: In some cases, dynamic balancing of the coupling may be necessary to avoid vibration issues, which could lead to equipment failure or reduced efficiency.
By conducting regular maintenance, you can detect potential issues early and prevent costly breakdowns or production downtimes. It is essential to follow the manufacturer's guidelines and recommendations for maintenance to ensure optimal performance and longevity of the motor couplings.
"`
Advantages of Using Grid Couplings in Industrial Machinery and Equipment
Grid couplings offer several advantages in industrial machinery and equipment applications, making them a popular choice for power transmission systems. Some of the key advantages include:
High Torque Capacity: Grid couplings have a high torque capacity, allowing them to transmit significant amounts of torque between shafts. This makes them suitable for heavy-duty industrial applications that require substantial power transmission.
Misalignment Tolerance: One of the primary benefits of grid couplings is their ability to accommodate misalignments between the connected shafts. They can handle both angular and radial misalignments, reducing stress on the machinery and extending component life.
Vibration Damping: The serrated grid element in grid couplings acts as a vibration damper, absorbing shocks and vibrations that can occur during operation. This feature helps in reducing noise levels and ensuring smoother machinery performance.
Shock Load Absorption: Grid couplings are designed to absorb shock loads, which are common in industrial environments. This capability protects the connected equipment from sudden overloads and prevents damage to the machinery.
Torsional Flexibility: The flexible grid structure of the coupling provides torsional flexibility, allowing it to compensate for torsional vibrations and torque spikes. This feature contributes to improved system stability and reduced stress on components.
Easy Installation and Maintenance: Grid couplings are relatively easy to install, making them a convenient choice for machinery assembly. They also require minimal maintenance, resulting in cost savings and reduced downtime for equipment servicing.
Wide Range of Applications: Grid couplings are versatile and suitable for various industries, including mining, pulp and paper, steel mills, and power generation. They are employed in pumps, compressors, fans, conveyors, mixers, and other industrial equipment.
Cost-Effective: Considering their durability, misalignment tolerance, and low maintenance requirements, grid couplings offer a cost-effective solution for power transmission needs in industrial settings.
Overall, grid couplings provide a robust and reliable means of transmitting power between rotating shafts while protecting machinery from adverse conditions. Their ability to handle misalignments and dampen vibrations makes them a valuable component in a wide range of industrial applications.



editor by CX 2023-10-08