Product Description
Structure features :
It is a kind of metal elastic variable stiffness coupling with advanced structure ,which transmits torque by serpentine spring plate embedded in the tooth groove of 2 half couplings ,mainly composed of 2 half couplings,two half covers,two sealing rings and serpentine spring plate.
 
| | | |
| --- | --- | --- |
| Model  | category | material regular |
| JS | Mantle type | 45#steel  |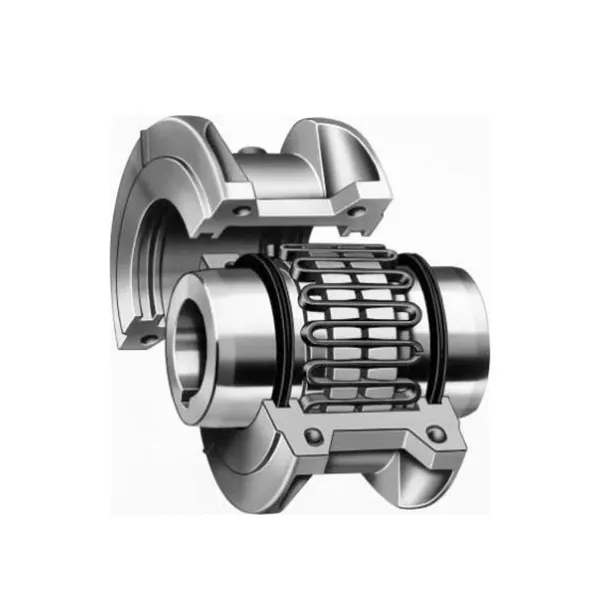 Are There Specific Safety Precautions to Consider When Working with Motor Couplings?
Yes, there are several safety precautions that should be taken into consideration when working with motor couplings:
Lockout-Tagout Procedures: Before performing any maintenance or installation work on motor couplings, it is essential to follow proper lockout-tagout procedures. This involves disconnecting the power source and placing a lock and tag on the disconnect switch to prevent accidental energization of the equipment.
Proper Personal Protective Equipment (PPE): When working with motor couplings, personnel should wear appropriate personal protective equipment, including safety glasses, gloves, and other necessary gear to protect against potential hazards and injuries.
Securely Support Equipment: Ensure that all equipment connected to the motor coupling is securely supported to prevent unexpected movement or collapse during maintenance or operation.
Avoid Excessive Misalignment: While motor couplings can compensate for misalignment to some extent, it is crucial to avoid excessive misalignment beyond the coupling's specified limits to prevent premature wear and potential failure.
Follow Manufacturer's Instructions: Always adhere to the manufacturer's guidelines, recommendations, and installation procedures when working with motor couplings. Improper installation or usage can lead to performance issues and safety hazards.
Regular Inspection: Conduct regular inspections of motor couplings to identify any signs of wear, damage, or misalignment. Address any issues promptly to maintain safe and reliable operation.
Stay Informed: Ensure that personnel working with motor couplings are properly trained and informed about potential risks and safety procedures.
Safe Handling of Equipment: Use appropriate lifting and handling equipment when moving or installing motor couplings to prevent injuries and damage to the equipment.
Environmental Considerations: Consider the environmental conditions in which the motor coupling will operate and choose materials and coatings that can withstand the specific environment to ensure safe and reliable performance.
By following these safety precautions, individuals can mitigate risks associated with working with motor couplings and contribute to a safe working environment for all personnel involved in the installation, maintenance, and operation of the equipment.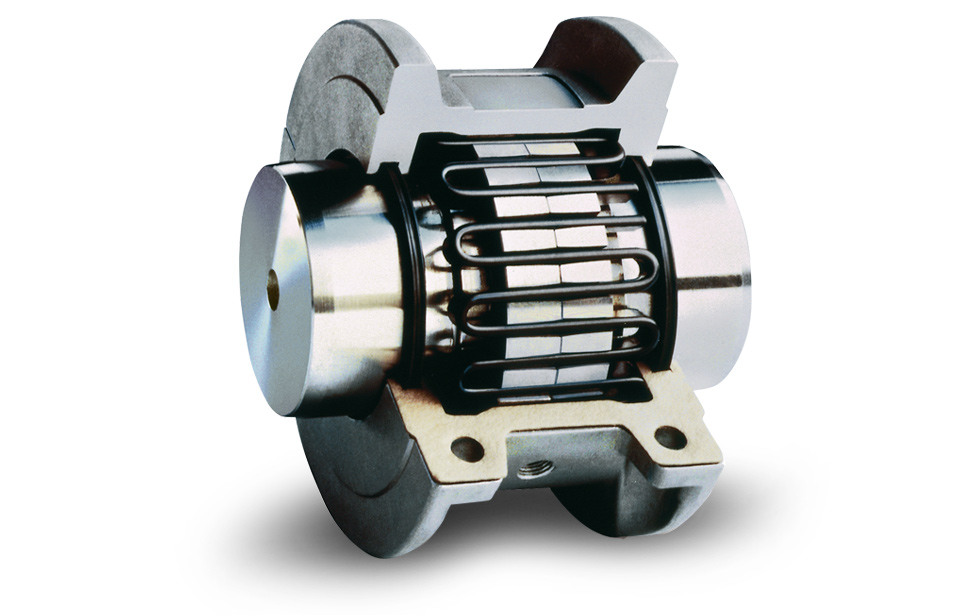 Explaining the concept of backlash and how it affects motor coupling performance.
Backlash is a crucial concept in motor couplings and other mechanical systems involving gears or interlocking components. It refers to the amount of clearance or play between mating components, resulting in a delay or gap before motion is transmitted from one component to the other. In the context of motor couplings, backlash can have both positive and negative effects on performance.
1. Effects of Backlash on Motor Coupling Performance:
Positive Effects:
Shock Absorption: Backlash in flexible couplings can act as a shock-absorbing mechanism, reducing the impact of sudden loads or vibrations on the motor and driven load. This property helps protect the motor and other connected components from damage.
Misalignment Compensation: Backlash allows some degree of angular, parallel, and axial misalignment between the motor and driven load. This feature is particularly beneficial in applications where precise alignment is challenging to achieve.
Negative Effects:
Reduced Precision: Backlash introduces a degree of play or slop in the system, leading to reduced precision and accuracy in motion transmission. This can be problematic in applications requiring tight positioning control.
Resonance and Vibration: Excessive backlash can lead to vibration and resonance issues, especially at high speeds. This can affect the overall performance and efficiency of the system.
Reversing Loads: Backlash can cause a dead zone when reversing the direction of motion. This means that before the load reverses, the clearance must be taken up, leading to potential jerks or delays in motion.
2. Controlling Backlash in Motor Couplings:
Controlling backlash is essential to optimize motor coupling performance for specific applications. Manufacturers can design couplings with varying degrees of backlash depending on the application's requirements. For instance:
Low Backlash Designs: Some couplings are engineered to minimize backlash, making them suitable for applications demanding high precision and minimal play.
Adjustable Backlash: Certain couplings allow users to adjust the amount of clearance, enabling customization based on the specific load conditions and system requirements.
Preloading: Preloading is a technique used to minimize backlash by applying a slight tension or compression force between the mating components. This eliminates the clearance and enhances precision.
Ultimately, selecting the right motor coupling with the appropriate level of backlash involves considering factors such as the application's load characteristics, required precision, speed, and potential vibration issues. Understanding and managing backlash play a critical role in maximizing the efficiency and reliability of motor couplings in various mechanical systems.
"`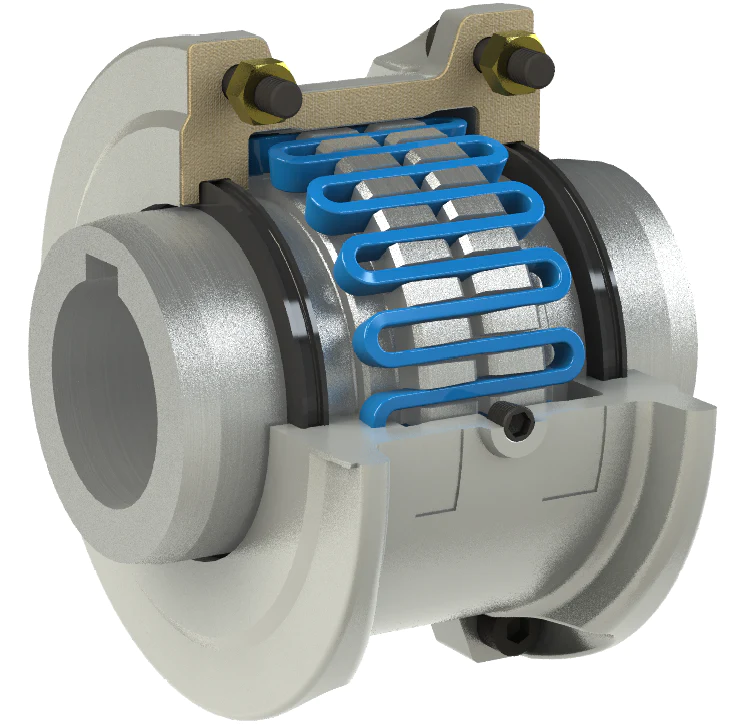 What is a Grid Coupling and How Does It Work in Mechanical Power Transmission?
A grid coupling is a type of flexible coupling used in mechanical power transmission systems to connect two shafts and transmit torque between them. It consists of two hubs with a serrated grid element sandwiched between them.
Here's how a grid coupling works in mechanical power transmission:
Hub Assembly: The grid coupling has two hubs, one attached to each shaft that needs to be connected. These hubs can be flanged or cylindrical in shape.
Serrated Grid Element: The grid coupling's unique feature is the serrated grid element made of spring steel or stainless steel. This grid sits between the two hubs and resembles a flexible grid structure.
Connecting the Hubs: The two hubs are brought together, and the serrated grid element is placed between them. The hubs' teeth mesh with the grid's slots, creating a flexible and resilient connection.
Transmitting Torque: When torque is applied to one shaft, it gets transferred to the grid, which deforms slightly under the load. This deformation allows the serrated grid to absorb shocks, vibrations, and misalignments between the two shafts.
Angular Misalignment: The grid coupling can accommodate angular misalignments between the connected shafts due to its flexible grid structure. It allows for some angular movement without causing undue stress on the system.
Radial Misalignment: The coupling can also handle small radial misalignments between the shafts, ensuring smoother operation and reduced wear on the machinery.
Torsional Flexibility: The serrated grid element provides torsional flexibility, allowing the coupling to absorb torsional shock loads and dampen vibrations during operation.
Grid couplings are known for their ability to protect connected equipment from excessive loads, shocks, and vibrations, making them ideal for applications in various industries such as mining, pulp and paper, steel mills, and power generation.
Additionally, grid couplings are relatively easy to install and require minimal maintenance, making them a popular choice for many power transmission systems.



editor by CX 2023-08-08