Product Description
Product Description
Product Characteristics
– Double-Section tpye curved-tooth gear couping
– Widely applicable in various mechanical & hydraulic felds
– Nylon & steel matched, maintenance free
– Able to offset axial, radial & angular misalignments
– Axial plugging assembly, very convenient
Nylon Toothed Sleeve Characteristics
– Excellent Mechanical Performance
– High rigidity
– High temperature resistance (+100C)
– Not embrittled at low temperature
– Good slippery & frictional behaviour
– Excellent electrical insulation behaviour
– Chemical corrosion endurable
– HIgh Accuracy of processing
Salient features
* Simple construction-quick easy installation-No special tools required.
* Flexible insert caters for incident angular, parallel and axial misalignment.
* Absorbs shock loads and damps small amplitude vibration.
* Insert design presets correct distance between hubs, using raised pads on each leg of the insert.
* Available in a range of stock bore sizes. Can also be supplied with finished bore & keyway.
* Unaffected by moisture, grease and oils-including 
   non-aromatic and non-ketone solvents and temperatures within the range 40C to + 100C.
* Spacer coupling with spacer size depending upon the distance between two shaft ends.
Detailed Photos
Product Parameters
Our Main Product
Timing belt pulleys, timing pulley bars, timing belt clamping plates.
Shaft locking devices (assemblies) and shrink discs: could be alternative for Ringfeder, Sati, Chiaravalli, BEA, KBK, Tollok, etc.
V belt pulleys and taper lock bush.
Sprockets, idler, and plate wheels.
Gear wheels and racks.
Shaft couplings: miniature coupling, curved tooth coupling, chain coupling, HRC coupling, normex coupling, FCL coupling, GE coupling, rigid and flexible coupling, jaw coupling, disc coupling, multi-beam coupling, universal joint, torque limiter, shaft collars.
Forging, Casting, Stamping Parts.Other customized power transmission products and Machining Parts (OEM).
Packaging & Shipping
Company Profile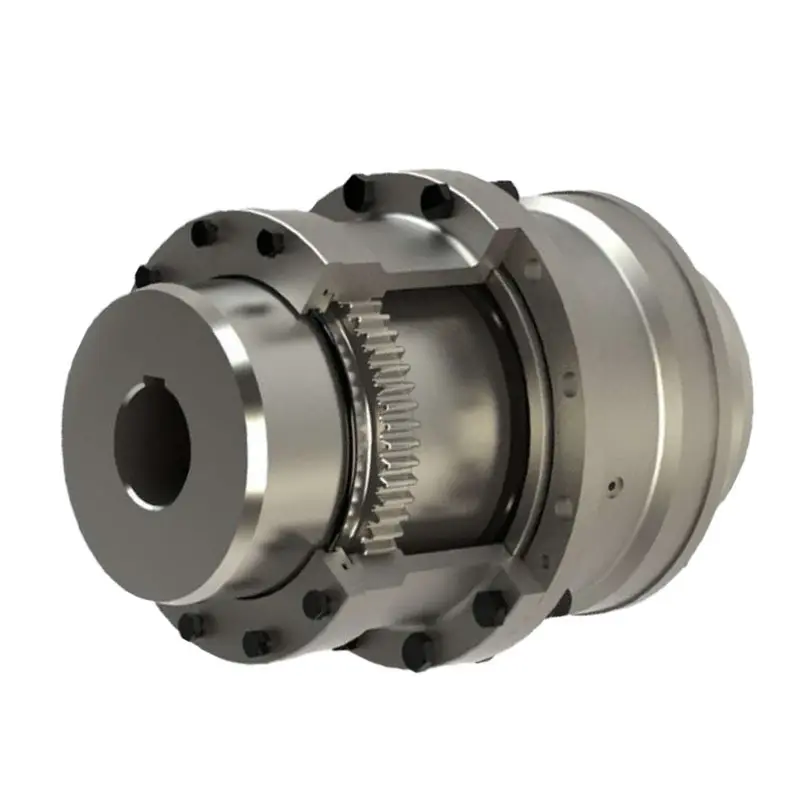 How Does a Gear Coupling Handle Angular, Parallel, and Axial Misalignment?
Gear couplings are designed to handle various types of misalignment, including angular, parallel, and axial misalignment. Here's how they handle each type:
Angular Misalignment: Angular misalignment occurs when the two connected shafts are not collinear and form an angle with each other. Gear couplings can accommodate angular misalignment due to the flexibility of their gear teeth. The gear teeth allow a slight angular movement between the shafts without causing significant stress on the coupling.
Parallel Misalignment: Parallel misalignment occurs when the two connected shafts are offset along their axis but remain parallel to each other. Gear couplings can handle parallel misalignment to some extent due to the slight axial movement allowed by the gear teeth. However, for larger parallel misalignments, special gear couplings with spacer elements or other features may be required.
Axial Misalignment: Axial misalignment occurs when the two connected shafts are not in the same axial plane and have an offset along their length. Gear couplings can handle a certain degree of axial misalignment because the gear teeth can accommodate small axial movements without causing damage to the coupling or connected equipment.
The ability of gear couplings to handle misalignment is one of their key advantages over other types of couplings. The gear teeth act as flexible elements that can compensate for minor misalignments, reducing the stress and wear on the coupling and the connected equipment. However, it is essential to ensure that the misalignment remains within the allowable limits specified by the coupling manufacturer to maintain optimal performance and reliability.



editor by CX 2023-10-07